Service offered (Day Care)
Fetch offers the ideal solution for dog owners who need to work but worry about their dogs during the day. You will have peace of mind knowing that your dog is getting the exercise and mental stimulation that it requires to be a happy, well balanced dog.
Joanne takes sole responsibility for your dog. This enables her to build a good relationship with your pet and eliminates the dog being confused by too many handlers. Because she doesn't have a large turnover of different dogs coming and going, your dog will be able to build friendships and have the stability of seeing their doggie friends each day.
Joanne picks up your dog from your home in the morning and delivers him or her back safely in the late afternoon in an air conditioned vehicle, which is specially adapted for the transportation of dogs.
The security of your dog is very important to Joanne and with dog napping on the increase she's decided to take all signage off her vehicle. Although it looks great from a commercial stand point to have a bright sign on a vehicle, advertising that you are carrying someone's precious dog in this day and age is probably not a good idea.
Your dog is walked in beautiful and stimulating places such as Wimbledon Common and the Surrey countryside. No small parks or quick trot round the block for us!
The rest of the day is spent playing and lounging with friends and Joanne in the comfort of her home. Joanne is fully insured and aims to make sure that the dogs have the most fun they can have without their owners.
The areas covered are, Southfields, Wandsworth, Earlsfield, Putney, Barnes and parts of Wimbledon.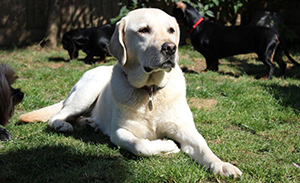 Occasional sleep over can be arranged for regular day care visitors.